Date: Sunday, June 19th
Time: 1pm – 3pm
$45 
In this two hour workshop you will learn the many medicinal and spiritual properties of Tulsi (Holy Basil) from Robyn, our in-house herbalist. Tulsi Basil is abundant in our garden at this time of year and we will be harvesting lovely big bunches. Together we will share a pot of Tulsi Tea while we make a Tulsi Bead Mala and create our own Mantras. Come and learn the Magic of Tulsi.
Tulsi Basil tea and lavender shortbread cookies served for refreshment.
All materials and information sheets are provided.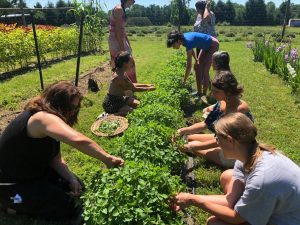 Robyn Weixler has always been drawn to nature, feeling at home in the woods amongst the wild plants. Over years of cultivating a relationship with the medicinal herbs on her land she has developed a very pragmatic, hands-on teaching philosophy. Robyn offers easy, practical ways to use plants in everyday life for better health and wellness and wants to teach others how easy it can be. Learning never ends and she is always excited to learn about a new plant. She is a homeschool mom and loves showing her son about the natural ways and connecting with the Earth and nature around them.