Date:
Saturday, August 27th
Time: 10am to 3pm
$180 pp
We are elated to offer this very unique event, a Divination & Story Telling Picnic.
In the morning, upon your morning arrival, there will be a coffee/tea bar with fruit and scones to choose from. Three different readings will be scheduled for you during the morning session: Runes with Leslee, Tarot with Amy Fae and Archetypes with Adrienne. In between your readings, you will be crafting a mini smudge stick, picking fresh lavender from the second bloom in our field and visiting our goats.
At 1pm we will convene in the Picnic Area to enjoy a magical tale told by Storyteller Rebecca Kelly. Complimentary light fare and lavender lemonade will be served. Gluten free and dairy free options will be provided.
To wrap up the afternoon, ground your experience with a group Sound Healing performed by Leslee Penny.
This event is limited to 8 participants so that we have the opportunity to fully engage and provide everyone with the best experience possible. The age limit is 18 years old and we ask that you do not bring children.
In the event of rain, all the events will be held in sheltered areas on the farm. In that event, an umbrella is advised.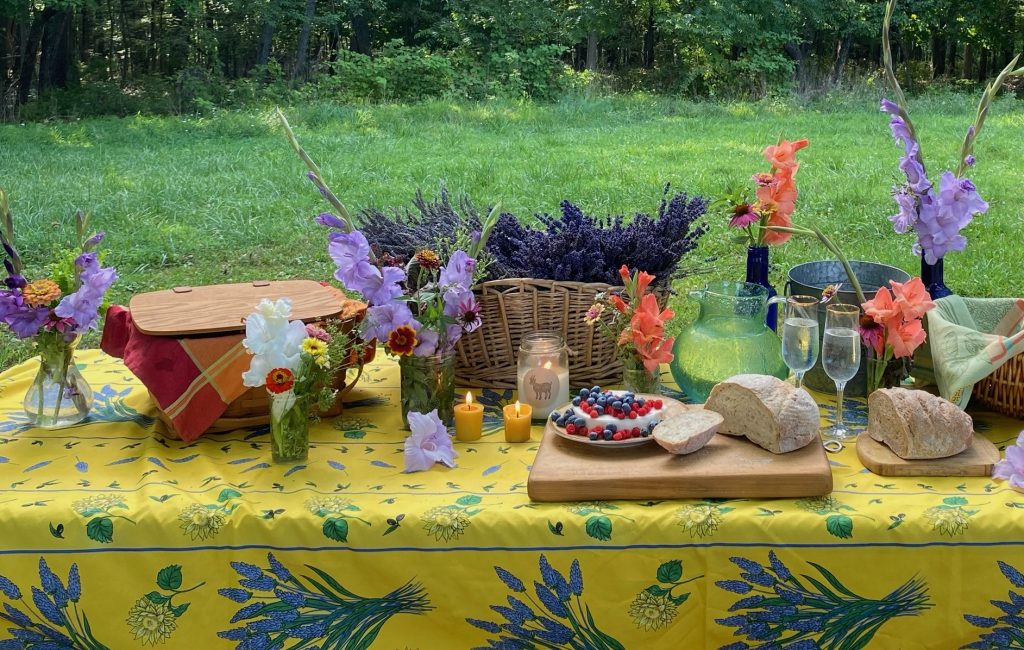 Leslee Penny is a shaman practitioner who is certified in a plethora of healing modalities. She has been working with Eastern philosophy for over 35 years, and brings her certifications of breathwork, meditation, martial arts, Tai Chi, hypnosis, life coaching, and sound healing into each of the workshops that she makes, allowing each one to be an enriching experience of the mind, body, and spirit. Her classes have made appearances at various yoga festivals, private healings, clinics, yoga studios, and the Jacques Marchais Museum of Tibetan Art. Her Tibetan singing bowl/gong healing workshops deliver hypnotically rejuvenating sound. She will transport you to a place of tranquility so your cells can renew in a bath of healing vibration.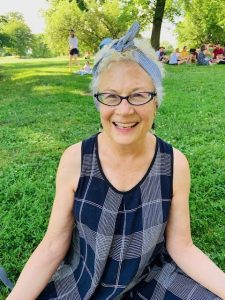 Rebecca Kelly is a curator, storyteller, natural dyer, book and textile artist and weaves her art forms together to make new forms like innovative book arts, embroidered, knitted and crocheted artwork and natural ink paintings. Her textile work was featured in the 2021 Hunterdon Art Museum Member Exhibition. She is a teaching artist at Lehigh University Art Galleries and Young Audiences. Rebecca curated the award-winning Bucks County Community Artmobile, transFORMations: Art Made from Recycled and Reused Materials which was viewed by over 40,000 individuals! Rebecca recently moved to Bucks County from East Harlem NY, where she pursued natural dye in depth at the Textile Art Center and the Brooklyn Botanical Gardens. When not teaching, Rebecca is happily foraging on the towpath with her four grandchildren!
Amy Fae is a practicing witch and a natural intuitive who reads the tarot and oracle. She enjoys using her gift to reveal deeper truth and purpose in people's lives and guide them on their journey.
Adrienne Crombie is an artist, lavender farmer, artist and co-owner of Mad Lavender Farm. Adrienne has been reading and teaching Tarot for 30 years.