Dream Weaving:
Realize your Dreams with Herbs & Ritual
Date:
Sunday, October 16th 1pm
Sustainer Rate: $50 sustains all
Supporter Rate:  $45 with code SUPPORT at checkout
      Community rate: $40 with code COMMUNITY at checkout
Have you ever wondered why some people remember their dreams and others cannot? Have you longed to uncover the important messages of your subconscious more fully? As our minds and bodies are directly affected by the uncertain external world it is important to be in tune with our internal guides for self reflection.
In this workshop we will discuss herbs that can help us relax into our theta waves to explore deep dreaming and the messages of our subconscious. We will focus on Mugwort and it's profound abilities to conjure lucid dreaming. As recording our dreams are an important part of discovering their deeper meaning, participants will be hand creating their own journals and smudge sticks. We will sample a dreamtime tea as a group to move into a guided lucid dream journey in the flower garden on the Mad lavender Farm. We will discuss helpful practices for conjuring and capturing the messages that arise when we learn how to practice deep listening. We will do some journaling and group discussion and all will leave with a dream tea blend, some new insights and information on ritual practices. Let's collectively dream a new world into being.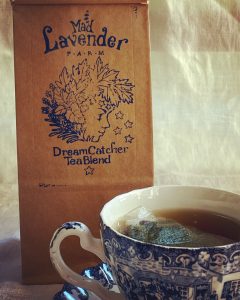 You will be sampling our new Dream Catcher Tea Blend, made with Mugwort & Lemon Balm wild foraged right here on our farm and, of course, lavender! All attendees will take home a free sample bag of Dream Catcher Tea Blend.
Katie O'Neill believes that the right tools and wellness practices are what is most needed for our evolution into this new paradigm. Katie is an artist, a floral designer, an Herbalist, Flower Essence guide, and student of Medical Astrology specializing in rituals from her lineage of Celtic traditions. Her love of exploration assists in her creative process to capture ancestral nostalgia and a spiritual essence in her work. Katie hopes to empower women and men by holding space to reconnect in community and to our individual divine nature as creators. By being close to nature she believes we have the ability to strengthen our own intuitions. Katie grew up at the shore and in the Pine Barrens of New Jersey, studied ancient Crafts and Cultural Anthropology at UArts in Philadelphia and currently calls Pennsylvania her home and discovery playground. She is available for private consults.