Saturday, September 19th 10-12pm
Saturday, October, 3rd 10-12pm
Sunday, October 11th 10-12pm
Cost: $30-45
Maximum # of people: 8
Please feel free to use the following discount codes at checkout…
Community rate: $30 with code GAIA1 at checkout
Supporter Rate:  $40 with code GAIA2 at checkout
Sustainer Rate: $45  no code required at checkout
~pays for you and assists others with their participation
Flowers have the power to heal on a vibrational level. There is a deeper reason we are told to "stop and smell the roses" than one may think. Come explore the foundation of Flower Essences and the profound healing abilities they offer for the emotional body. We will take a meditative journey in the garden to connect with the plants and discover their medicine. We will discuss properties of several flowers that grow right here in the northeast region and see if we can tap into our own flower allies. From the solar power of the Sunflowers, to the joy of Zinnia, and the protective qualities of Yarrow which we could all use right now, the flowers provide a myriad of emotional support that is especially helpful in these challenging times. You will have the opportunity to explore Katie's personal collection and handmade essences to develop your own unique Flower Essence blend while gaining empowering insight into Gaia's gifts.
Our workshops will be limited to an intimate gathering of 8 people in order to maintain a safe practice of social distancing. We look forward to coming together on the farm.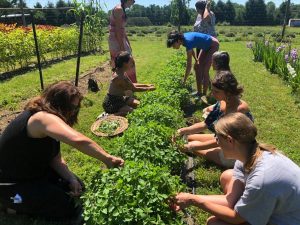 Katie O'Neill is an artist who after 10 years of owning Mushmina, an artisan handmade fashion brand was called to the plants to pursue an education in Herbalism, Flower Essence and Medical Astrology. She feels the right tools and wellness practices are what is most needed for our evolution into this new paradigm. As a space holder and facilitator of Women's Circles she hopes to empower women to reconnect in community and to our individual divine nature as creators. By being close to nature she believes we have the ability to strengthen our own intuitions. Katie's love of exploration assists in her creative process to capture an ancestral nostalgia and spiritual essence in her work and designs. Katie is a native born Jersey girl who now calls Pennsylvania her home and discovery playground along the beautiful Delaware River Valley. She is currently working on her medicinal garden and handmade menstruums and tools as her new offering in the world.