Day: Sunday, February 12th
Time: 1pm – 3pm
$35/pp
During this workshop we will be exploring how Hawthorn, Rose and Passion Flower can support the physical and emotional well being of the heart. We will discuss how working with these herbal allies can strengthen our circulatory system, as well as how they can help us find joy and strength in times of grief and disappointment. In this workshop you will make a heart health tincture or vinegar as well as a tea blend. You will leave with several DIY recipes to prepare your open remedies and rituals at home. 
In celebration of LOVE, you will leave with a sample product hand crafted from my heart to yours. 
Herbal tea and lavender shortbread cookies will be served, naturally!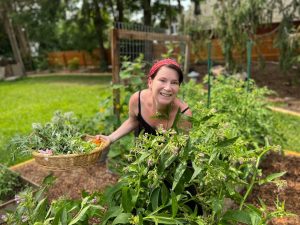 April Morecraft is a mother, teacher, gardener, and creator of a home based, small batch herb business called Oak Root Herbals. She began her studies 4 years ago by taking a farm based herbal foundations course with Linda Shanahan of Bluestem Botanicals. April has just completed a 3-year apprenticeship with herbalist, author and green witch, Robin Rose Bennet of Wise Woman Ways and is currently studying herbal astrology online with Sajah Poham of The School of Evolutionary Herbalism.
She looks forward to sharing plant medicine and magic with you.