Date: Saturday, June 10th
Time: 1pm – 3pm
$50/pp
Did you know that taking a dropper of sage tincture before bed lessens night sweats? Or that it can aid bleeding gums and soothe a sore throat? Come explore all the benefits Sage, Rosemary, and Thyme want to share with us! These glorious culinary herbs not only add to our kitchen creations but they deliver power plant medicine to our mind and body. During this workshop you will harvest and create a sage tincture and a rosemary hair tonic.  You will learn how to infuse oils for culinary and topical uses. You will leave with a wealth of recipes to continue exploring in your own kitchen. Join us for a fun and aromatic afternoon.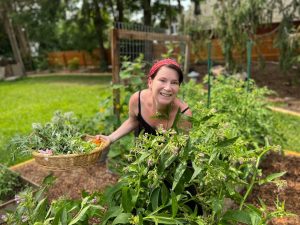 April Morecraft is a mother, teacher, gardener, and creator of a home based, small batch herb business called Oak Root Herbals. She began her studies 4 years ago by taking a farm based herbal foundations course with Linda Shanahan of Bluestem Botanicals. April has just completed a 3-year apprenticeship with herbalist, author and green witch, Robin Rose Bennet of Wise Woman Ways and is currently studying herbal astrology online with Sajah Poham of The School of Evolutionary Herbalism.
She looks forward to sharing plant medicine and magic with you.