Lavender Sage Smudge Workshop
at
A Maker's Circle Studio
Location: 40 Pottersville Road, Gladstone, NJ.
Date: Saturday, October 24th
Time: 1 pm
Maximum # of people: 8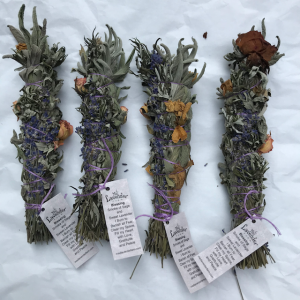 I am going to teach you to wrap gorgeous, heavenly scented smudge sticks with up to four different herbs. The colors are spectacular and the combination of aromas when they are burned are so cleansing, soothing and elevating to the soul.
I know, they are so pretty you don't want to burn them. That is why we will make two smudge sticks in our workshop. Your first attempt will not be perfect but we are celebrating our unique signature and embracing our flaws. In other words, having fun. And making a glorious mess.
This workshop will be held outdoors at A Makers Circle Studio in Gladstone, NJ. Please dress warmly!