Date: Saturday, August 15th 
Time: 10am
Cost: $40-$55
Maximum # of people: 8
This class is offered for $40-$55
Please feel free to use the following discount codes at checkout…
Community rate: $40 Use TULSI when ordering your ticket
Supporter Rate:  $48 Use TULSI7 when ordering your ticket
Sustainer Rate: $55 pays for you and assists others with their participation
No Discount code required at checkout.
We could all use a little more sweetness in our lives~ Oxymels are an herbal extract of vinegar and honey, a folk recipe that dates back to antiquity. Join us in the garden at Mad Lavender Farm for the Soul Sweetening Oxymels Workshop to discuss the creative combinations of herbs and its myriad of uses that make these delicious menstruums unlike "medicine" at all.
From Scarborough Fair~ parsley, sage, rosemary and thyme, to the lavender field on the farm, in our workshop we will take a meditative walk through the garden to connect with the plants and medicine we wish to receive. We will honor the indigenous ways of ritual and ceremony to access our intuitions through Mother Nature's guidance.
While sipping fresh brewed tea, we will learn the methods for creating an oxymel menstruum and turning it into a cool fizzy drink, a dressing for Summer salads, a marinade, a mocktail and more. Oxymels have been created for all sorts of medicinal purposes, from asthma to arthritis to the common cold. Participants will leave with their own oxymel combination and an informational handout. Our workshops will be limited to an intimate gathering of 8 people in order to maintain a safe practice of social distancing. We look forward to coming together on the farm.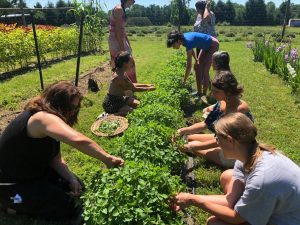 Katie O'Neill is an artist who after 10 years of owning a handmade fashion business was called to the plants to pursue an education in Herbalism, Flower Essence, Floristry and Medical Astrology. She feels the right tools and wellness practices are what is most needed for our evolution into this new paradigm. As a space holder and facilitator of Women's Circles she hopes to empower women to reconnect in community and to our individual divine nature as creators. By being close to nature she believes we have the ability to strengthen our own intuitions. Katie's love of exploration assists in her creative process to capture an ancestral nostalgia and spiritual essence in her work and designs. Katie is a native born Jersey girl who now calls Pennsylvania her home and discovery playground along the beautiful Delaware River Valley. She is currently working on her medicinal garden and healing arts as her offering in the world.