Dates:
Saturdays & Sundays  through October
Cost: $50 pp
Invite a friend or friends and save!
Sound Bath Goat Yoga for Three
The session begins with a Ceremonial Smudge to cleanse the energy of negativity and initiate a calming atmosphere. You will then be immersed in a Sound Bath generated by Tibetan brass singing bowls. These bowls have been used for centuries for healing and meditation. They create a range of different sounds and frequencies that benefit the listener by "tuning up" our vibrational frequencies. Each part of our bodies has its own frequency and  the sound of the bowls allow the body to harmonize out of sync frequencies to a healthier state. Tibetan singing bowls have been said to reduce stress and anxiety, improve circulation, balance energy centers throughout the body, increase mental clarity and promote an overall state of well being.
Into this wonderfully relaxed state of being, we will introduce our friendly and curious baby Dwarf Nigerian goats. They love to jump, play, snuggle and be generally silly and fun as Goat Yoga teacher Ava Marino takes you through some gentle asanas. A baby goat may decide to hop on your back while you are in "table posture", or she may decide to cuddle in your lap. It doesn't get better than that.
Sessions are limited attendance to help with social distancing. Please bring your own yoga mat, a towel to put under your mat and bring your mask for interactions that may necessitate going "mask up". Lavender Orange Hand Sanitizer and Bug Master are supplied for your safety and comfort. In the event of rain, we will hold the session in our 26 foot tipi. Limited spots available!
Feel free to stroll the farm, see the chickens and baby goats and shop at our open air lavender boutique.
All events at Mad Lavender Farm are open air and limited attendance for your health and safety. Please do bring a mask in case you need to mask up when in closer proximity to others.
Saturday sessions are taught by Ava Marino, Sunday sessions are taught by Shannon Keelyn.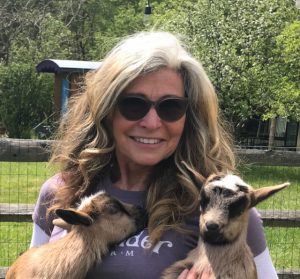 Ava is a certified yoga instructor who lives locally with her husband and two sons and her most favorite furry best friends her dog Sid and cats Rocky and Louie. Ava has found her passion in all the healing types of yoga and their compliments which include vibrational sound healing using Tibetan bowls, crystals bowls and other instruments that help her students de-stress and create a deeper sense of peace and well being.  Oh, and did I mention her favorite compliment: baby goats and of course lavender!!!!  Come join her as she shares her passions in a memorable goat yoga vibrational sound workshop.
Shannon is a certified yoga instructor, fur mama and reiki master who uses vibrational sound healing as a tool in her energy work.
Tibetan and Crystal bowls are used to create a sound vibration that promotes healing, while nurturing a sense of community, wellbeing and a connection to nature. The most delightful aspect of the workshop is the laughter! Shannon began her journey with her very first yoga class at the farm a few years back and fell in love with the stars of the workshop- the baby goats and of course lavender!!!!  She is a firm believer that laughter is the very best medicine and it is impossible to take life too seriously while surrounded in the magic at Mad Lavender farm! Come join her as she shares her passions in a memorable goat yoga vibrational sound workshop.