The Medicine of Tulsi:
A Meditation and Menstruum Making Journey
Dates:
Sunday, August 1st 1pm
Sunday, September 12th 10am
Limited to 12 people
Sustainer Rate: $60 supports you and others
Supporter Rate:  $55 with code SUPPORT
      Community rate: $50 with code COMMUNITY at checkout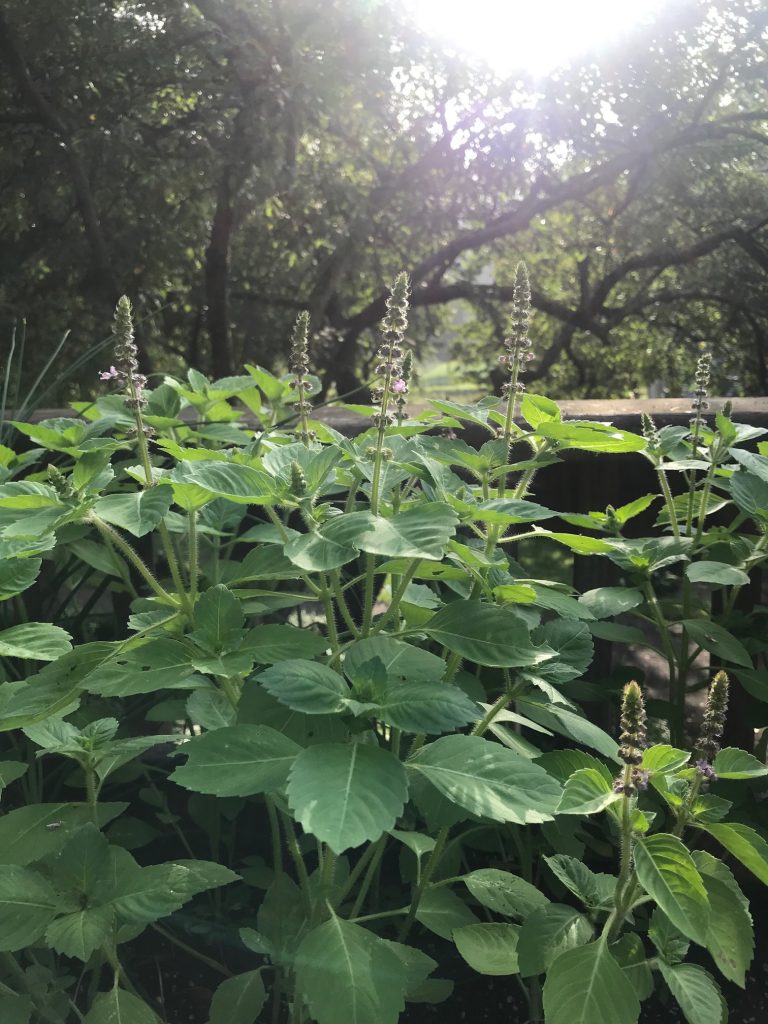 The sweet and spicy aroma of Tulsi Basil provides an uplift for the body, mind and spirit. You'll know it is no ordinary Basil when you catch it's scent in the breeze. Also known as Holy Basil, this soothing herb provides a wealth of medicinal properties and a sense of comfort and wellbeing in challenging times.
Revered in India as the Elixir of Life, Tulsi is believed to be the embodiment of the Hindu goddess Lakshmi. The energy of Tulsi is used to balance and harmonize our chakras, enliven us and provide what we need to show up as our divine selves in the world.
To get to know this mysterious and wonderful herb on a deeper level, we will experience her gifts in the garden at Mad Lavender Farm and explore her many healing properties in depth. Tulsi has the ability to calm and restore the nervous system, boost physical stamina, provide mental clarity, and is an ally to the heart, lungs and liver. And that's just for starters.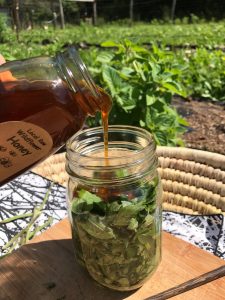 In our workshop we will take a meditative walk through the garden alongside the lavender field to connect with Tulsi's energy and journey together from the head to the heart. While sipping on our fresh brewed Tulsi Basil tea, we will learn the methods for creating a tincture, an elixir and an oxymel. Everyone will be hands on in creating their own menstruum of choice. Participants will leave with their own Tulsi Holy Basil creation, the fresh harvested herb, a comprehensive informational Tulsi handout and drawing of the goddess Lakshmi.
Our workshops will be limited to an intimate gathering of 8 people in order to maintain a safe practice of social distancing.
In the interest of inclusivity for those who would love to take this workshop we are happy to offer tiered pricing. $50 supports you, $45 is our community price and $55 helps support us all. We look forward to coming together on the farm!
Feel free to stroll the farm, see the chickens and baby goats and shop at our open air lavender boutique.
All workshops at Mad Lavender Farm are open air and limited attendance for your health and safety. Please do bring a mask in case you need to mask up when in closer proximity to others. This workshop is rain or shine.
Katie O'Neill believes that the right tools and wellness practices are what is most needed for our evolution into this new paradigm. As an artist, floral designer, Herbalist, Flower Essence guide, and student of Medical Astrology and Celtic traditions~ her love of exploration assists in her creative process to capture ancestral nostalgia and a spiritual essence in her work. Katie hopes to empower women and men by holding space to reconnect in community and to our individual divine nature as creators. By being close to nature she believes we have the ability to strengthen our own intuitions. Katie is a native born Jersey girl who calls the Pine Barrens, the shore and Pennsylvania her current homes and discovery playground. She is available for private consults.