Vinegar of the Four Thieves:
Immune Boosting Protection
Sunday, September 19th 10:00am
Sustainer Rate: $55 supports all
Supporter Rate:  $50 with code SUPPORT
      Community rate: $45 with code COMMUNITY at checkout
Limited to 12 people
This ancient extract combination of herbs and spices was used to combat the plague in the 1700's. Vinegar of the Four Thieves is an oxymel, an herbal menstruum of vinegar and honey, a delicious folk recipe that dates back to antiquity that is unlike "medicine" at all. Join us in the garden at Mad Lavender Farm to discuss the specific combinations of herbs used to help boost the immune system into the colder seasons. We will take a meditative walk through the garden to connect with the plants. We will honor the indigenous ways of harvesting fresh seasonal herbs. We will take a deeper look at the energetic and medicinal properties of several herbs included such as Sage, Lavender and more.  Learn the methods for creating this special mixture and leave with your own VFT batch and a comprehensive informational handout. We look forward to coming together on the farm.
Price includes all of the herbs, vinegar, jar and supplies.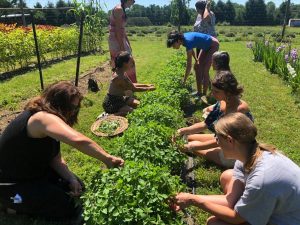 Katie O'Neill believes that the right tools and wellness practices are what is most needed for our evolution into this new paradigm. Katie is an artist, a floral designer, an Herbalist, Flower Essence guide, and student of Medical Astrology specializing in rituals from her lineage of Celtic traditions. Her love of exploration assists in her creative process to capture ancestral nostalgia and a spiritual essence in her work. Katie hopes to empower women and men by holding space to reconnect in community and to our individual divine nature as creators. By being close to nature she believes we have the ability to strengthen our own intuitions. Katie grew up at the shore and in the Pine Barrens of New Jersey, studied ancient Crafts and Cultural Anthropology at UArts in Philadelphia and currently calls Pennsylvania her home and discovery playground. She is available for private consults.