Date: Saturday, April 29th
Time: 1pm – 3pm
Join us for a two hour class exploring all the joyful benefits of violet. Learn how violet's cooling energetics support the lymph, the skin, the nervous system and more. During this workshop we will spend time getting to know violet in our garden through a guided meditation and journaling experience. We will sample a delightful beverage made with simple syrup infused with violet. In the workshop we will craft a violet infused vinegar to take home.
You will leave with additional DIY recipes and the knowledge of how to work with violets as food and medicine. Violet was my 3rd plant ally. I spent a year getting to know her and I look forward to sharing her abundance with you. She is so giving that she even blooms twice!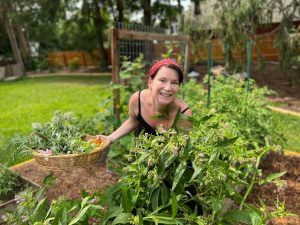 April Morecraft is a mother, teacher, gardener, and creator of a home based, small batch herb business called Oak Root Herbals. She began her studies 4 years ago by taking a farm based herbal foundations course with Linda Shanahan of Bluestem Botanicals. April has just completed a 3-year apprenticeship with herbalist, author and green witch, Robin Rose Bennet of Wise Woman Ways and is currently studying herbal astrology online with Sajah Poham of The School of Evolutionary Herbalism.
She looks forward to sharing plant medicine and magic with you.