Date: Saturday, May 20th
Time: 1pm – 3pm
$45/pp
Come explore the beautiful benefits of the "weed" plants making their spring debut in the fields of Mad Lavender. During this two hour workshop you will get to know the many benefits that chickweed, plantain, dandelion, and violet have to offer. Together, we will identify, harvest and discover the nutritional and medicinal properties of these generous plants. In addition to tasting a variety of recipes that include these abundant and fun edibles, you will leave with the knowledge of working with the spring plants to create your own syrups, oils, vinegars, and more! During this class you will make an infused vinegar to use as a detoxifying tonic.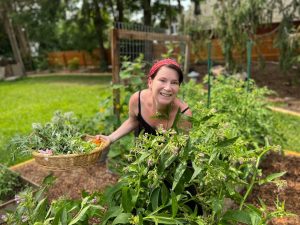 April Morecraft is a mother, teacher, gardener, and creator of a home based, small batch herb business called Oak Root Herbals. She began her studies 4 years ago by taking a farm based herbal foundations course with Linda Shanahan of Bluestem Botanicals. April has just completed a 3-year apprenticeship with herbalist, author and green witch, Robin Rose Bennet of Wise Woman Ways and is currently studying herbal astrology online with Sajah Poham of The School of Evolutionary Herbalism.
She looks forward to sharing plant medicine and magic with you.