Date: Sunday, May 14th
Time: 1 – 3pm
$80/pp
Join us on the farm with Rebecca Kelly to bundle dye a luxurious silk charmeuse bandana. We will use flowers, kitchen produce and herbs to dye the silk! Your scarf will make a gorgeous present for you or a loved one!
We will sip lavender lemonade and munch on divine lavender shortbread cookies as our fabric brews!
Participants will forest bathe and forage on the farm for materials for your own personal future dye experiments.
Resources and bibliography will be shared to all participants.
Light rain, please bring umbrellas and rain gear. We will reschedule if there are heavy rains.
Ages 16 –  Adult. This is a terrific workshop for family members to enjoy together!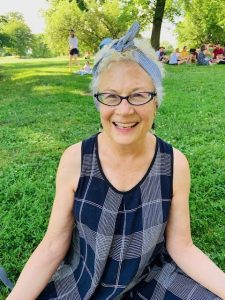 Rebecca Kelly is a curator, storyteller, natural dyer, book and textile artist and weaves her art forms together to make new forms like innovative book arts, embroidered, knitted and crocheted artwork and natural ink paintings. Her textile work was featured in the 2021 Hunterdon Art Museum Member Exhibition. She is a teaching artist at Lehigh University Art Galleries and Young Audiences. Rebecca curated the award-winning Bucks County Community Artmobile, transFORMations: Art Made from Recycled and Reused Materials which was viewed by over 40,000 individuals! Rebecca recently moved to Bucks County from East Harlem NY, where she pursued natural dye in depth at the Textile Art Center and the Brooklyn Botanical Gardens. When not teaching, Rebecca is happily foraging on the towpath with her four grandchildren!