I often hear newbies to lavender say that they've never tasted lavender in food before. Lavender has become so popular and so I forget that there is a significant part of the population who are as of yet deprived of the full lavender experience. For the benefit of the uninitiated, then, I'd like to provide a classic recipe: Lavender Scones.
Scones are made from basic ingredients; flour, butter and milk and so they make a great vehicle for lavender's distinctive and delicate floral flavor. Scones come from hundreds of years of European tradition. Traditionally connected with Scotland, Ireland and England the first known reference to scones is from a Scottish poet in 1513. Lavender has deep roots in European cuisine, as well. So, avail yourself of the simplest, most time honored ingredients and treat yourself to a taste experience that was shared by our ancestors.
Lemon lavender icing is optional and quite indulgent.
Lavender Scones
INGREDIENTS
3 cups all-purpose flour (I use Bobolink Meadow White flour)
3/4 cup almond flour
1 1/2 tablespoons baking powder
1/4 cup powdered sugar (you can use granulated sugar instead)
1/2 teaspoon salt
6 tablespoons (3/4 stick) cold unsalted butter
1 TBSP + 1 tsp culinary lavender buds
1 1/4 cups cold milk (I put a big spoonful of plain yogurt in the measuring cup, then mix in milk)
PREPARATION
Preheat oven to 425°F.
Mix together flour, almond flour, baking powder, sugar, lavender buds and salt in a large bowl with a whisk or a fork.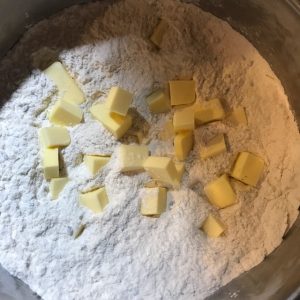 Cut cold butter into cubes first then cut into dry ingredients with a pastry cutter. Finish blending into flour mixture with clean fingers until it resembles coarse meal.
Using a fork, stir in cold milk until just combined.
Transfer to a lightly floured surface and, with floured hands, knead until it forms a dough. Do not over-knead.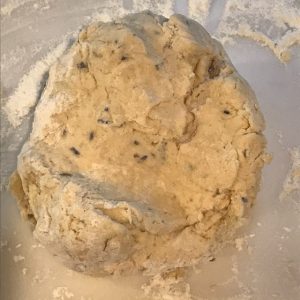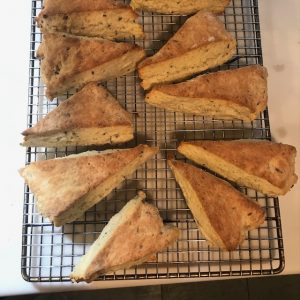 Roll out dough into a 9-inch round about 1/2 inch thick. Cut into pie wedges with a sharp knife. For large scones, cut into 8 wedges. The tea scones here are cut into 12 wedges.
Arrange scones on large baking sheet lined with parchment paper.
Bake scones in middle of a 425°F oven until pale golden, about 15 minutes, and transfer to a rack to cool.
If you are icing your scones, make the icing now, recipe below. Drizzle it on while they are still a little warm.
To make Lavender Lemon Scones, add 1 tsp finely grated lemon rind to the dry ingredients.
Note: if you don't have any almond flour in your pantry, and you are hankering for scones, just use 3 1/2 cups of all purpose flour instead. They will be more on the dry side, like classic scones.
Lemon Lavender Icing
INGREDIENTS
1 cup confectioners sugar
2 teaspoons freshly grated lemon zest (I would definitely use an organic lemon!)
2 teaspoons culinary lavender bud
1 to 2 Tablespoons freshly squeezed lemon juice
PREPARATION
Sift confectioners sugar into a medium bowl. Stir in lemon zest and lavender bud.
Gradually stir in lemon juice until the icing is the consistency you'd like.