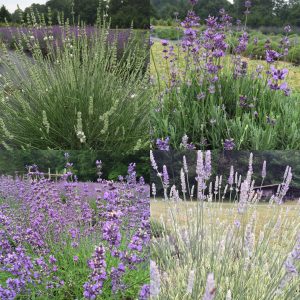 We have several varieties of lavender plants available in both English lavender, which is short-stemmed, and French lavender, which is long-stemmed. Which variety of lavender to choose depends on the space you have in your garden and how you'd like to use the lavender you harvest from your bush.
English lavender is also known as Angustifolia and is the best choice for culinary buds.
We have three varieties of English lavender: Hidcote, Munstead, and Super Blue. Hidcote and Munstead are very similar, Munstead flowers being slightly paler in color. Super Blue is a newer variety and known for it's winter hardiness as well as it's tolerance for heat and humidity and deep purple bud.
The French Hybrids, also known as X intermedias, have an intense scent but are too strong to be used as a culinary bud. The long stemmed bouquets make a striking display and the scent is very long-lasting, making the bud ideal for sachet. We offer two varieties: Phenomenal and Provence. Phenomenal lavender is known for it's winter hardiness. The Phenomenal flower is a bit paler than Provence lavender flower.
The wrap up:
English lavender (aka Angustifolia) is shorter stemmed and is the best for culinary bud. The color is generally deeper.
French lavender (aka x Intermedia) is longer stemmed and is not advised for culinary uses but great for sachet due to the stronger scent. The color is generally more subtle.
Now is the time to get your lavender into the ground! You may purchase your plants online and come to the farm for easy pick up. Our lavender plants are by farm pick up only (no shipping).