Date: Sunday, Sept 17th
Time: 1pm – 3pm
The skin is our largest organ and an effective way to absorb the benefits of medicinal plants. During this workshop you will learn how to use a variety of herbs to create topical preparations for a multitude of skin conditions such as first aid, eczema, acne, tissue toning and basics for skin vitality. We will explore the many benefits that the key skin herbs offer. Some of these plants include: calendula, lavender, plantain, yarrow, witch hazel, comfrey and rose. We will spend time walking the grounds to identify and harvest plants to create your own witch hazel blend. In addition to instructions and recipes for your own home-made herbal skin remedies, you will also take home a tin of nourishing skin salve crafted by April Morecraft of Oak Root Herbals. 
Join us for a delightful afternoon communing with plants that help us achieve healthy skin from the inside and out!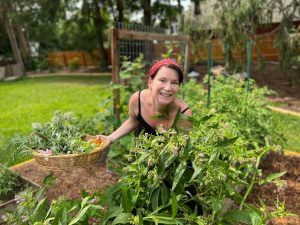 April Morecraft is a mother, teacher, gardener, and creator of a home based, small batch herb business called Oak Root Herbals. She began her studies 4 years ago by taking a farm based herbal foundations course with Linda Shanahan of Bluestem Botanicals. April has just completed a 3-year apprenticeship with herbalist, author and green witch, Robin Rose Bennet of Wise Woman Ways and is currently studying herbal astrology online with Sajah Poham of The School of Evolutionary Herbalism.
She looks forward to sharing plant medicine and magic with you.