Date: Sunday, July 23rd
Time: 1pm – 3pm
$45/pp
Elderberry and Yarrow bestow us with their lacy blossoms in July. During this workshop we will explore the magic and medicine of Elderflower and Yarrow, visiting the flowers in our garden and harvesting some for our medicine making!
Both blossoms are full of beneficial properties from nourishing our skin, moving fevers, soothing colds and so much more! During this workshop we will spend time in the garden with Elder and Yarrow then to our workshop to create a facial toner as well as a tea blend to take home.
You will leave with additional recipes and ritual work to further explore your connection to Elder and Yarrow.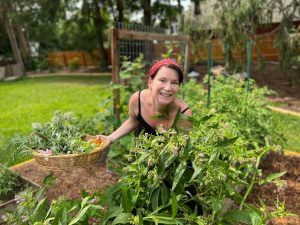 April Morecraft is a mother, teacher, gardener, and creator of a home based, small batch herb business called Oak Root Herbals. She began her studies 4 years ago by taking a farm based herbal foundations course with Linda Shanahan of Bluestem Botanicals. April has just completed a 3-year apprenticeship with herbalist, author and green witch, Robin Rose Bennet of Wise Woman Ways and is currently studying herbal astrology online with Sajah Poham of The School of Evolutionary Herbalism.
She looks forward to sharing plant medicine and magic with you.