Make your day memorable at Mad Lavender Farm
Bridal showers, weddings, parties and more!
Our organic lavender farm is perfect for bridal showers, baby showers, engagement parties, birthday parties and intimate weddings/receptions from May through October. The fresh, peaceful environment at Mad Lavender Farm makes it the ideal outdoor venue for micro events and intimate gatherings for up to 30 guests. (Larger events are considered on a case by case basis.) 
Keep in mind that the lavender is in first and most spectacular bloom from late June through mid-July.
We want your day to be special! Before renting the farm, we ask that you complete our online request form. We will then contact you to discuss your event and schedule an appointment for a walk through of the farm. 
When you rent the farm, you get a lot!
What's Incuded with your Rental
Mad Lavender Farm provides:
Exclusive use of our beautiful 6-acre lavender & flower farm
Picnic Pavilion, 36' x 36' equipped with buffet counter, overhead fans and electric.
20' wide Lavender Labyrinth with curved benches flanking a Buddha in the center.
Wisteria covered, 15-foot geodesic Flower Dome with a stone floor and decorative furniture.
Herb garden with a reflective pool and tiered waterfall.
Adirondack style 18-foot-wide mini pavilion with refrigerator.
Electrical outlets and running water
Vintage outdoor furniture
Blackboards in antique frames on easels for greeting your guests
Lavender boutique that may be opened for your guests to shop
Gypsy caravan chicken coop
Goat paddock
One porta potty (not handicap accessible)
You will be responsible for providing:
Certificate of insurance. Mad Lavender Farm must be added as an Additional Insured to your business or homeowners policy.
Tents (must be set up in the designated area)
Tables and chairs 
All food, drink, china, silverware, napkins, tablecloths, flowers, etc.
Additional porta potty if needed 
Any other necessary items
We recommend Rental Center USA of Hunterdon 908-730-6642 for rental and set up of any additional tents and equipment.
A few things to keep in mind when renting the farm
Things to Know
Acoustic Music
Acoustic music is permitted for entertainment. No amplified music is permitted.
Beer and Wine 
Only wine and beer may be served. Underage or intoxicated persons are not allowed to consume alcoholic beverages.
Catering
You can provide your own caterer (or bring your own food) or we are happy to provide a list of preferred local caterers that meet our eco-conscious standard. If you use your own caterer, please be sure that they adhere to our eco-conscious standard. Check out some of our favorites here.
Decorations
For the protection and beauty of our grounds no objects such as tacks, staples, wires, nails, string or tape may be affixed to any garden plants, lavender, trees or farm structures without prior approval.
Lavender florets MUST be used to throw in lieu of rice, bubbles, birdseed, confetti, or petals. 
Eco-Friendly Event
Single use, non-compostable plastic is not permitted on the farm. This includes water. juice and soda bottles. We will provide access to our safe, tested, delicious well water and enough pitchers to accommodate your guests.
We ask that you compost all food and paper napkins in the container provided.
Favors
We are delighted to work with you to customize your party favors from our many offerings. Order lavender sachets, soaps, mini bottles of lavender mist, hand sanitizer or bug master to thank your guests with a tangible memory. (View Favors.)
Flowers
Flowers are provided by SpadaFlora Botanical Artistry for Mad Lavender Farm events. Outside florists are not permitted. Please contact Nicole at 908-797-9248 or by email at spadaflora@gmail.com
Parking and Access
Our parking area can accommodate up to 30 cars. Parking attendants are not provided by the farm.
Cars and trucks are permitted to drive to the tent area to set up and break down for the event. We will go over the logistics of tent placement and access with you in planning for your event.
Trash Removal and Clean up
Mad Lavender Farm is not responsible for clean-up after your event. A $100 deposit is included in the Farm Rental Agreement and will be refunded if you remove the trash yourselves.
Workshops
Mad Lavender Farm and SpadaFlora Botanical Artistry have a selection of fun workshops that can be booked to give your guests a special experience and a craft to take home.
Rental Hours and Fees
Rental Hours
Mad Lavender Farm is available to rent May through October however, June through mid-July are the best times to view the lavender. Hours of usage are sun up to sun down, Monday thru Sunday. (There is no lighting at the farm.)
Rental Fees
June 18th through July 11th (the high season): $1250
May through October (excluding high season dates): $1050
Rental is for exclusive use of the farm for the day of your event, set up the day before and dismantling of the event by the first business day following your event.
Cancellation Policy
Cancellations up to 60 days of the event will be refunded 50%. After 60 days, cancellations will not be refunded. In the event of quarantine restrictions imposed by the state that disallow private events, your deposit will be refunded in full.
Let's get you started!
Farm Rental Process
Complete our Rental Information questionnaire se we have an idea of the type of event you envision.
We will contact you to discuss your event in detail.
You'll then schedule your farm walk-through visit online.
Show up and host your amazing event!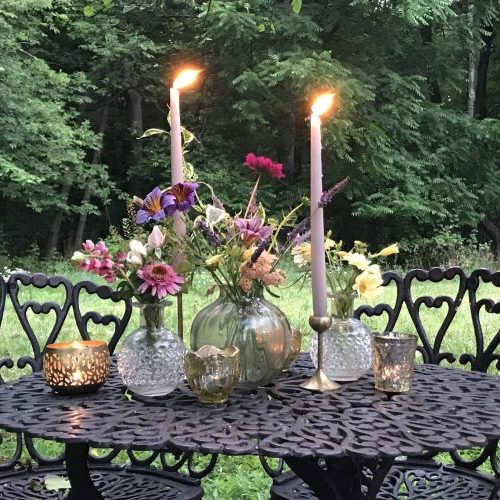 Get news about the farm in your inbox!
Sign up for our weekly Mad Lavender Farm newsletter and receive the most up to date news on activities at the farm.