Yoga Instructors
Our farm is the perfect venue for your Yoga Retreat
Mad Lavender Farm is more than just an organic lavender farm. It's a haven for mindfulness and wellness. From July through October, the farm transforms into the perfect backdrop for yoga instructors to host their own retreats, surrounded by nature's peaceful serenity. Imagine leading your students through a yoga practice as they breathe in the calming scent of lavender and soak up the breathtaking views of the surrounding countryside.
With ample space for up to 24 students, your retreat is sure to be a unique and unforgettable experience. The farm offers flexible options including a beautiful outdoor setting under the shade of a 30' x 30' pole tent for yoga, as well as indoor spaces for workshops and other activities. With a picnic area on site, you can provide a delicious and healthy meal for your students, while they take in the beauty of the farm.
Our mission is to support you as you provide a rejuvenating and transformative experience for your clients, surrounded by nature's beauty.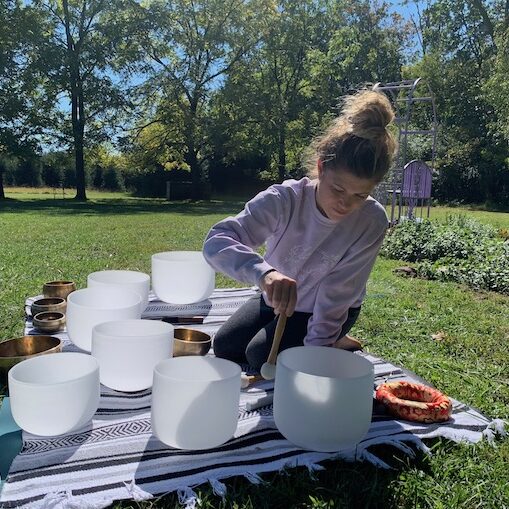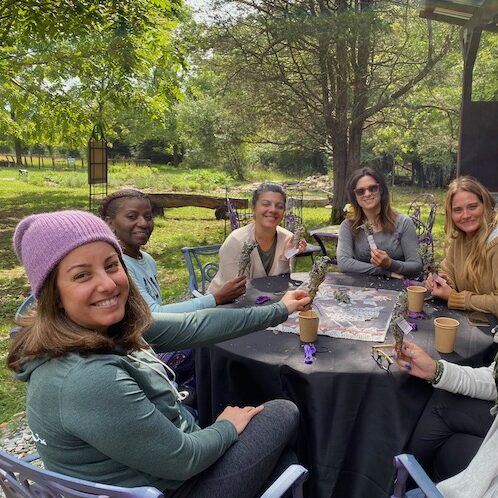 When you host your retreat, you get a lot!
Mad Lavender Provides:
Use of our beautiful 6-acre lavender & flower farm
Picnic Pavilion, 26' long by 26' wide equipped with buffet counter, overhead fans and electric
30' x 30' pole tent for rain or shine yoga practice (sides included in the event of rain)
24' wide Lavender Labyrinth with curved benches flanking a Buddha in the center
Wisteria covered, 15-foot geodesic Flower Dome with a stone floor and decorative furniture
Herb garden with a reflective pool and tiered waterfall
Adirondack style 18-foot-wide mini pavilion with refrigerator
Electrical outlets and running water
Vintage outdoor furniture
Blackboards in antique frames on easels for greeting your group
Lavender boutique open for your students to shop
Gypsy caravan chicken coop & 
Goat paddock
Porta potty
Workshop Add Ons (Additional Cost)
A few things to keep in mind...
Things to Know about Renting the Farm
Picnicking
You can bring your own food or choose from our list of preferred local restaurants to pick up your picnic en route to the farm. You may also order a coffee/tea bar from our list of Add-Ons when you book your retreat. If you bring your own food, please avoid using throw away plastic containers. Check out some of our favorites local restaurants.
Eco-Friendly Event
Single use, non-compostable plastic is not permitted on the farm. This includes water, juice and soda bottles. We will provide access to our safe, tested, delicious well water and enough pitchers to accommodate your group.
We ask that you compost all food and paper napkins in the container provided.
Workshops
Mad Lavender Farm has a selection of fun and creative workshops that can be booked to give your students a special experience and a craft to take home. For more details please see our Workshop Add Ons
Parking and Access
Our parking area can accommodate up to 30 cars.
Trash Removal and Clean up
We provide waste receptacles labeled for compost, recycling and land fill for self clean up. Please be conscientious when using the receptacles.
Reserve the farm for 3 hours
Rental Hours and Fees
Reservation Hours
Mad Lavender Farm is available to book your Yoga Retreat July through October. Hours of usage are 10am to 4pm, Saturday and Sunday. (If you would like to reserve a weekday retreat, please let us know and that can be arranged.)
Reservation Fees
Rental is for use of the farm during the hours of your reservation. You are welcome to arrive ahead of your students the day of your retreat for any set up you need to do.
Cancellation Policy
Payment in full is required to reserve a yoga retreat on our farm. 50% of your payment will be refunded for cancellation up to 2 weeks prior to your retreat. In the event of the forecast of rain 48 hours before your retreat, your event will be rescheduled or refunded in full, as you wish.
Get news about the farm in your inbox!
Sign up for our weekly Mad Lavender Farm newsletter and receive the most up to date news on activities at the farm.