Group sessions and private parties available
Yoga with real, live, adorable Dwarf Nigerian goats!
Did you know that yoga with furry friends can enhance your yoga practice? Why not give it a try?
As it turns out, practicing your vinyasas in the presence of goats has legitimate benefits. Basically, we're all craving a connection to something deeper than our smart phones and that's where goats come in.
Good for your mind, body, and soul
Benefits of yoga with goats
Yoga with goats (or any animal) has been shown to be beneficial for not only your health but for your mind. It's pretty hard to be depressed with goats jumping around you!
Having a bad day? Working out with a four-legged friend can help boost your mood. They can also motivate you. Knowing you'll have a friend alongside you can encourage you to get up and get moving. 
Goat yoga is great for the goats, too!
Let's not forget the animals themselves!
Our goats love being around people because they get plenty of affection, plenty of healthy exercise, and plenty of mental stimulation.
The most important benefit of exercising with an animal is that it's fun! Doing yoga with our goats is a sensational experience you won't forget.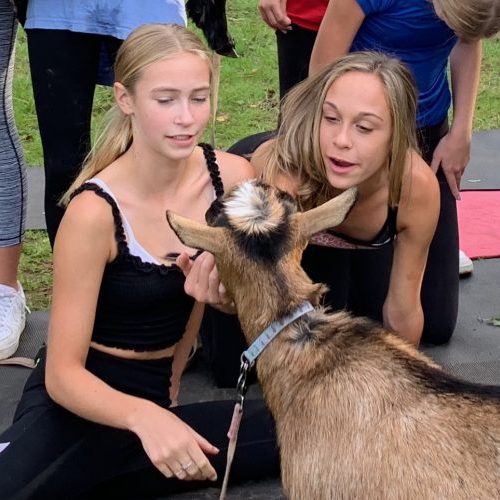 Get news about the farm in your inbox!
Sign up for our weekly Mad Lavender Farm newsletter and receive the most up to date news on activities at the farm.